Hamden's Professional Firefighters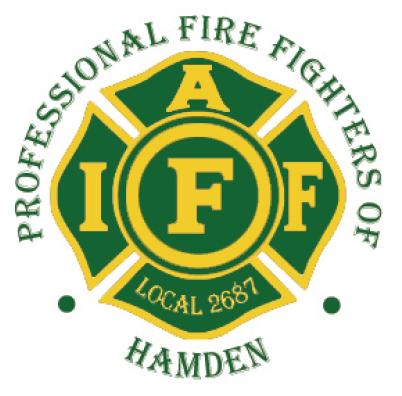 The Hamden Professional Firefighters affiliated with the International Association of Firefighters [IAFF] on March 19, 1979. On that charter day, Local 2687 became the sole and exclusive representative of the career firefighters protecting the citizens of Hamden.
For 28 years, Local 2687 has negotiated fair and equitable working agreements, protected the rights and benefits of our members, and has become both a fraternal and social organization. We steadfastly maintain our commitment to on-the-job safety and continued training and certification. The sister and brotherhood of firefighters is ingrained in our nature, due to the teamwork and stress related to our line of work. The IAFF and our state organization the Uniformed Professional Fire Fighters of Connecticut [UPFFA] encourage communication and fraternal good-will between IAFF Locals throughout the State of Connecticut and across both the United States and Canada.
Local 2687 maintains deep rooted ties to the Hamden community. We sponsor sports teams in the various town leagues. Several of our members are or were active members of these leagues, serving as coaches, equipment managers, and members of the organizational boards. We purchase space in booster ad-books, and contribute to events organized around the health and safety of Hamden's youth.
Our members were instrumental in starting the "Vial of Life" program in Hamden. This initiative helps protect our elderly citizens in the case of a medical emergency by providing vital medical histories to EMS personnel, should the person be unable to respond verbally during a medical emergency. We maintain an active committee dedicated to raising money to defeat muscular dystrophy through the MDA, a member serves as a counselor at the Connecticut Burn Foundation summer camp for kids, we collect food for the elderly services kitchen, and donate toys the Yale New Haven Hospital each holiday season.
These programs and others are a major part of our organization. Yes, our members provide fire protection, paramedic EMS response, auto accident extrication, hazardous material response, technical rescue, and code enforcement…but we are so much more.
We are your friends and neighbors, coaches and counselors, room parents, and PTA members; we are members of your places of worship, we belong to your clubs and community organizations, and we are ready to help you when you need us most.
We are the Hamden Professional Firefighters, IAFF Local 2687: People Helping People……