Release: # 17-008
Date: April 19, 2017
Contact: Deputy Chief Gary Merwede
On Tuesday April 18, 2017 at 6:24 pm. the Hamden Fire Department was dispatched to a reported kitchen fire, in the Whitney Village Quinnipiac University student housing complex located at 3075 Whitney Avenue. The first notification call to Hamden Central Communications came from the Quinnipiac security office.
Engine 5 arrived on scene at 6:26 pm., and transmitted a report that students were already evacuating the building into the parking area. Light smoke was showing in the interior hallways and stairwell leading to the second floor apartment. Captain Ed Evers reported a sprinkler activation in the kitchen of apartment six. Hamden firefighters confirmed the fire had been extinguished and checked for extension into the walls and attic area.
Salvage work to contain the damage from water run-off and ventilation of the building followed. Quinnipiac security and maintenance personnel were on scene to assist students. In all, three students in three residential apartment were displaced due to water damage. All were successfully relocated by the university. There were no injuries reported.
Hamden Fire Marshal Brian Dolan determined the fire ignited as a student resident was cooking on the stove top. The student attempted to control the fire with a hand held extinguisher, but was unsuccessful. The resident in apartment six notified the building Resident Assistant (RA) of the fire, who in-turn notified QU security and fire department, and assisted with the safe evacuation of students.
Residential sprinkler systems, such as the one in place at this location, are an effective means of fire control and help to minimize structural damage. When combined with an audible and monitored alarm system, residents have timely notification of incipient fires and a greater chance of safe building evacuation. The Hamden Fire Marshal's office and the Quinnipiac Safety Department work together in an on-going basis to maintain and inspect these important systems.
For additional information or questions, please contact the Hamden Fire Marshal's office at 203-407-3182.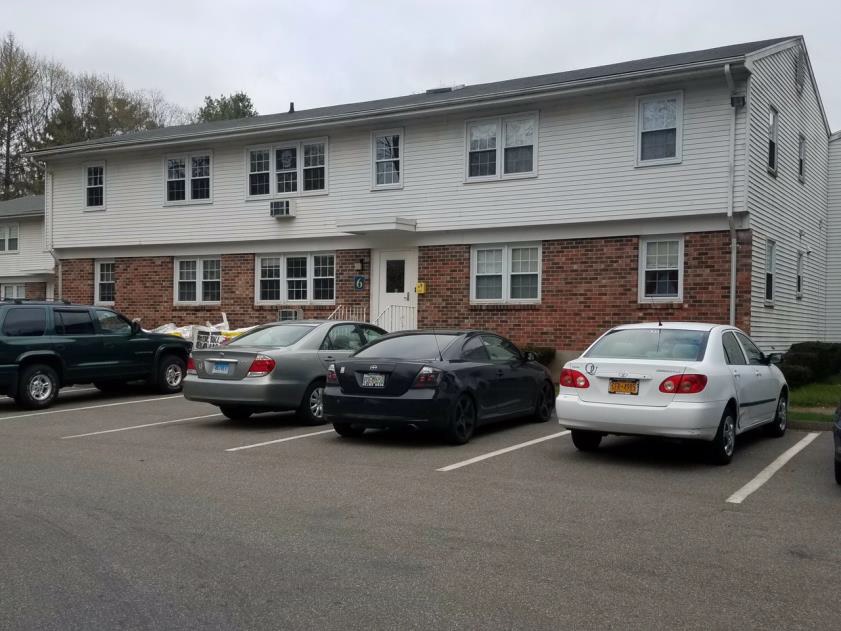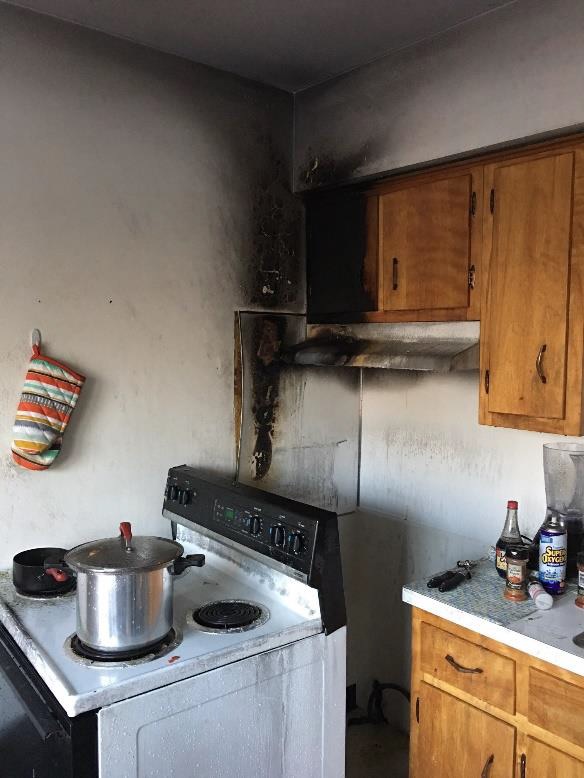 Release: # 17-007
Date: April 18, 2017
Contact: Deputy Chief Gary Merwede
In the past three days (April 15th and April 18th) the Hamden Fire Department responded to two fires that were the result of discarded smoking materials. While the Hamden Fire Marshal's office has determined that both incidents were accidental and no injuries were reported, both residential properties sustained exterior damage.
On Sunday 4/15/2017, (photo inset left) the HFD responded to 20 Millpond Road for a reported structure fire. First responding crews were able to extinguish the fire before it extended to the interior of the home.
The National Fire Protection Association (NFPA) produced a
smoking-material-related fires report in July 2013, which analyzed United States fire statistics1, and the 90,000 smoking-material fires reported. "In 2011, an estimated 17,600 smoking-material home structure fires caused 490 civilian deaths (19% of all home structure fire deaths), 1,370 civilian injuries and $516 million in direct property damage. The other 72,400 smoking-material fires in 2011 were mostly outdoor fires (60,200 fires in trash, vegetation and other outdoor combustibles)".
This morning at approximately 3 am, (photo inset left) the HFD responded to 34 Second Street for a three family home with the exterior on fire. Fortunately, this fire was also extinguished quickly and residents were evacuated without injury.
As a public service announcement and reminder, smoking materials should always be discarded into non-combustible containers designed specifically to help prevent accidental fire extension. Even when away from structures, discarded cigarettes can cause substantial damage to vegetation, wooded areas, and automobiles.
With the onset of Spring, brush fire season in New England has started. Special care should be taken with all outdoor fires. For questions relating to appropriate distances for fire pits, barbeques, or other set-backs, please contact your local Fire Marshal. Hamden residents can call 203-407-3181 or 203-407-3182 for additional information.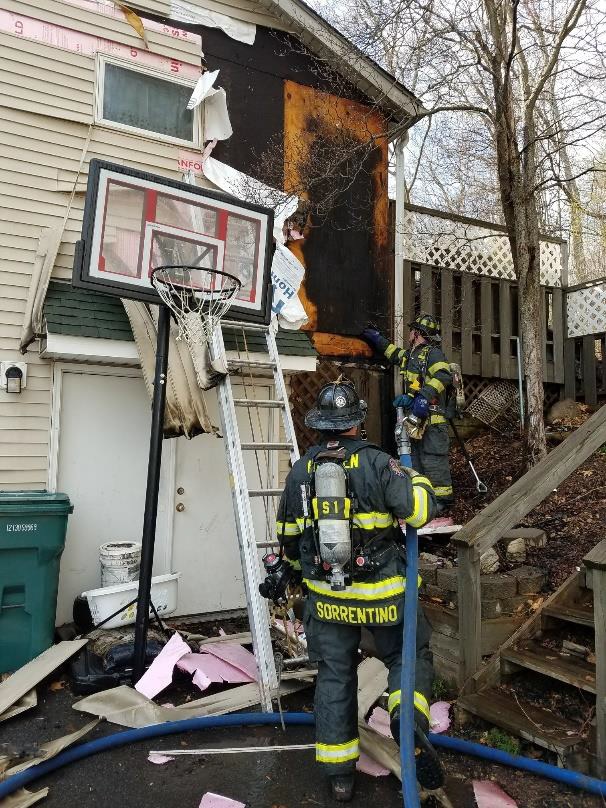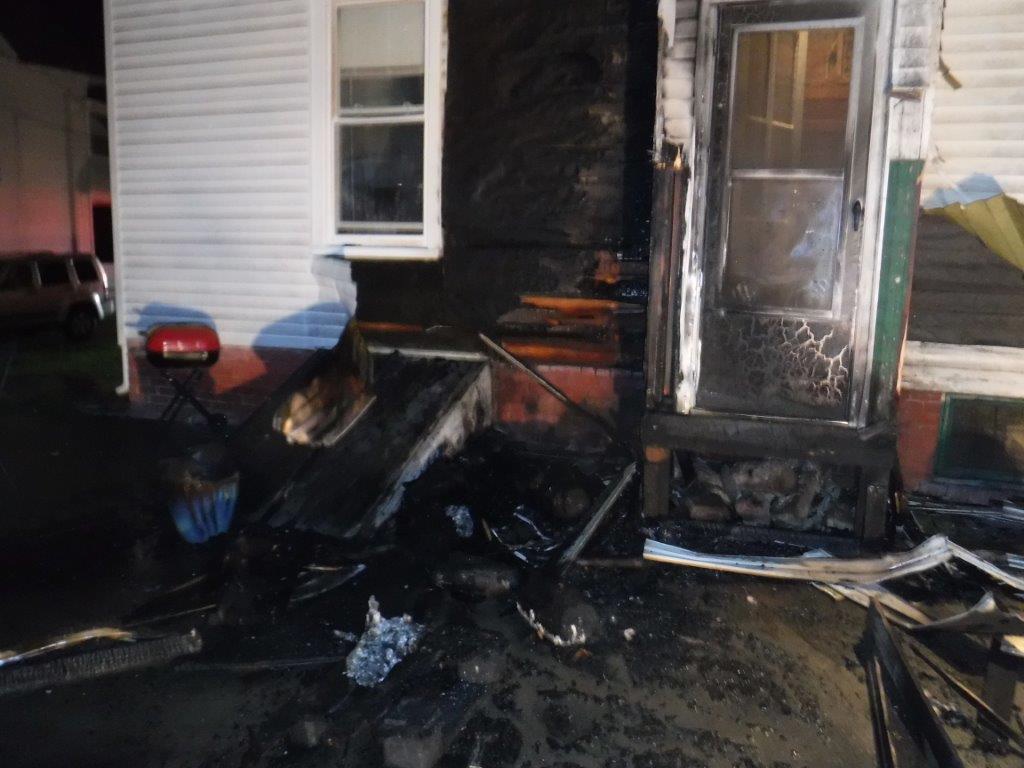 Sleeping Giant State Park
Hiker Rescue
4-11-17
http://www.wtnh.com/2017/04/12/hamden-fire-department-save-hiker-on-sleeping-giant/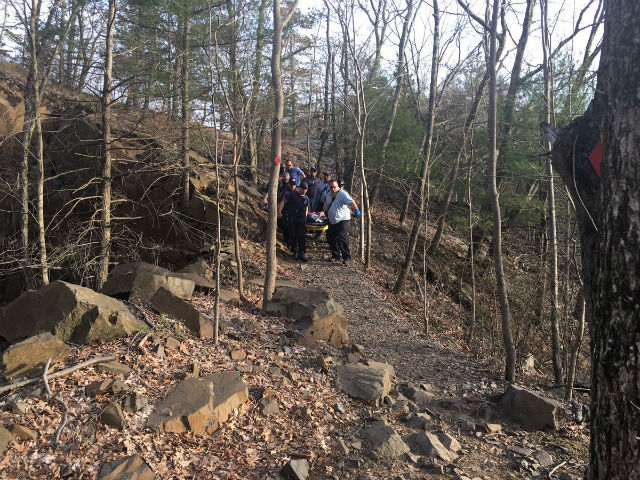 Release: # 17-006
Date: March 31, 2017
Contact: Deputy Chief Gary Merwede
On March 30 2017 at 1834 hrs. the Hamden Fire Department was dispatched to a structure fire at 154 Townhouse Road. Central Communications received multiple 911 calls reporting smoke and flames showing from the multiple dwelling wood frame building. Subsequent to the initial dispatch, responding companies were informed residents may be trapped.
The first arriving company (Engine 3 @ 1838) reported a working fire with flames showing from the gable vents in the attic. Incident Commander Gary Couture (Car 3) call for an additional alarm and committed crews to suppression and interior searches of each of the apartments in the building. All searches were negative.
The fire spread was contained to the second floor and the common attic spaces above. Sections of the second floor ceiling became unstable as firefighters worked to extinguish hidden fires during overhaul, preventing the spread of fire to the western most portion of the building. Fortunately there were no firefighters injuries reported.
Deputy Fire Marshal Tim Lunn and Fire Inspector Ralph DiFonzo have determined the seat of the fire to be located in unit 154, however the origin and cause are still under investigation. No residents reported injury. In total 6 units were directly affected by fire spread, smoke damage and the suppression effort. First floor units sustained water damage.
The Hamden CERT Team was called to the scene for support and to assist displaced residents. CERT members coordinated with the American Red Cross to determine which residents would require emergency housing. AMR assisted with the medical evaluations of residents and firefighters.
Hamden Building Official Robert Labulis deemed one section of the structure, which was constructed in 1982, to be uninhabitable and structurally unsound. Disconnected utilities were isolated to this area, allowing residents at the far end of the building to remain in their homes.